---
I DON'T CARE IF IT HURTS – 2007
An installation / performance / poster that combines kitsch and a phenomenological concern for the perceived object.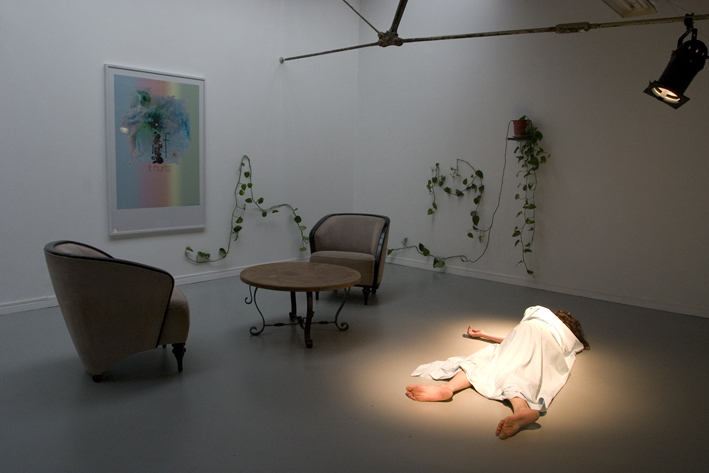 Cast / Actresses: Christina Flick, Hilde Caroline Labadie, Kimmy Ligtvoet


A breakdown of the 3 constituted parts, and a few subheadings:
 
1) An actress playing the part of a corpse: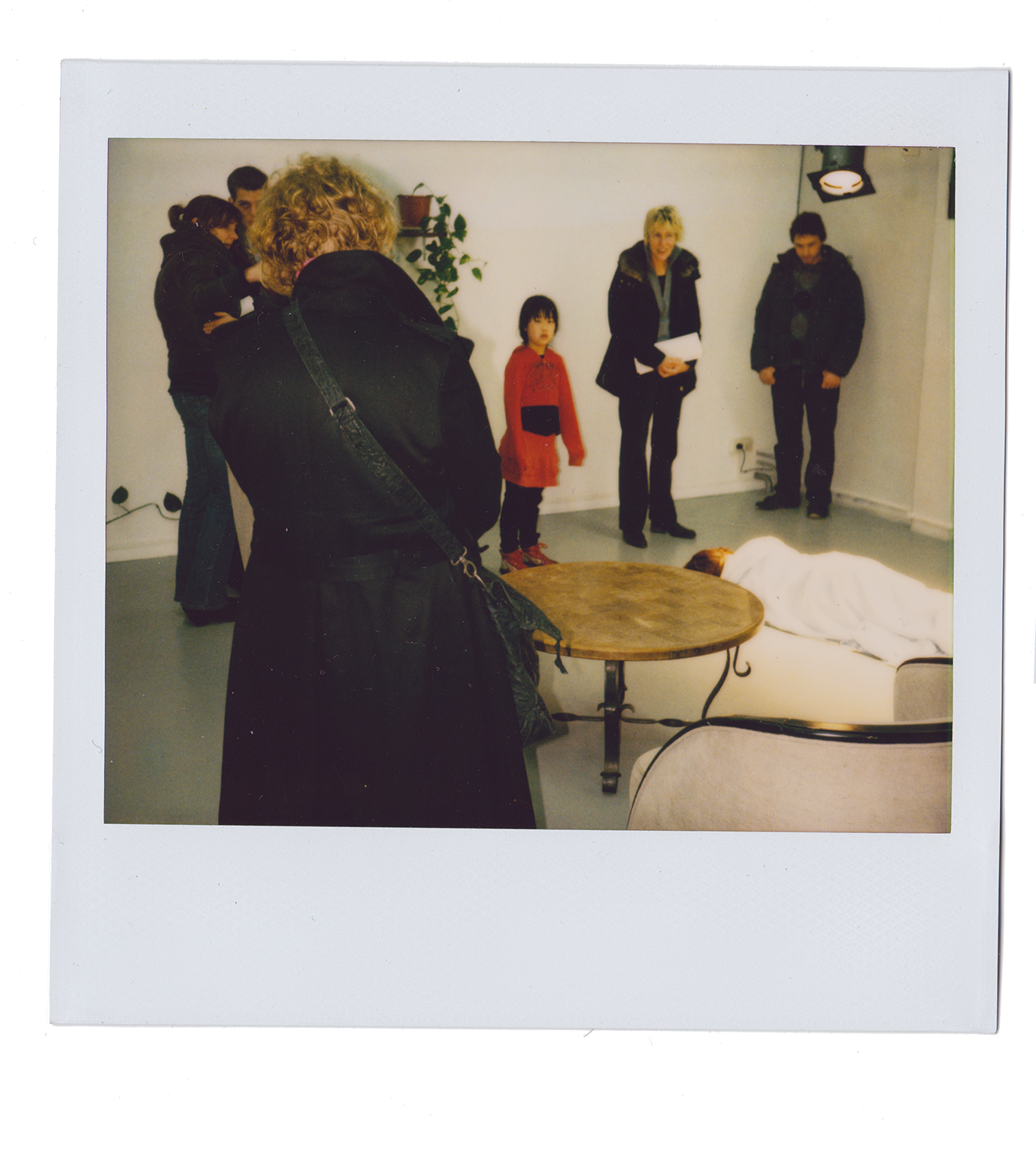 The performance is based on a contradiction between acting and existing (without context), and this would confirm the nature of metaphors when embodying its own reality; it is the embodiment of an idea, that takes the form of a lifeless body. The tension between the metaphor and the phenomena is complicated by its attempt to illustrate its own principle.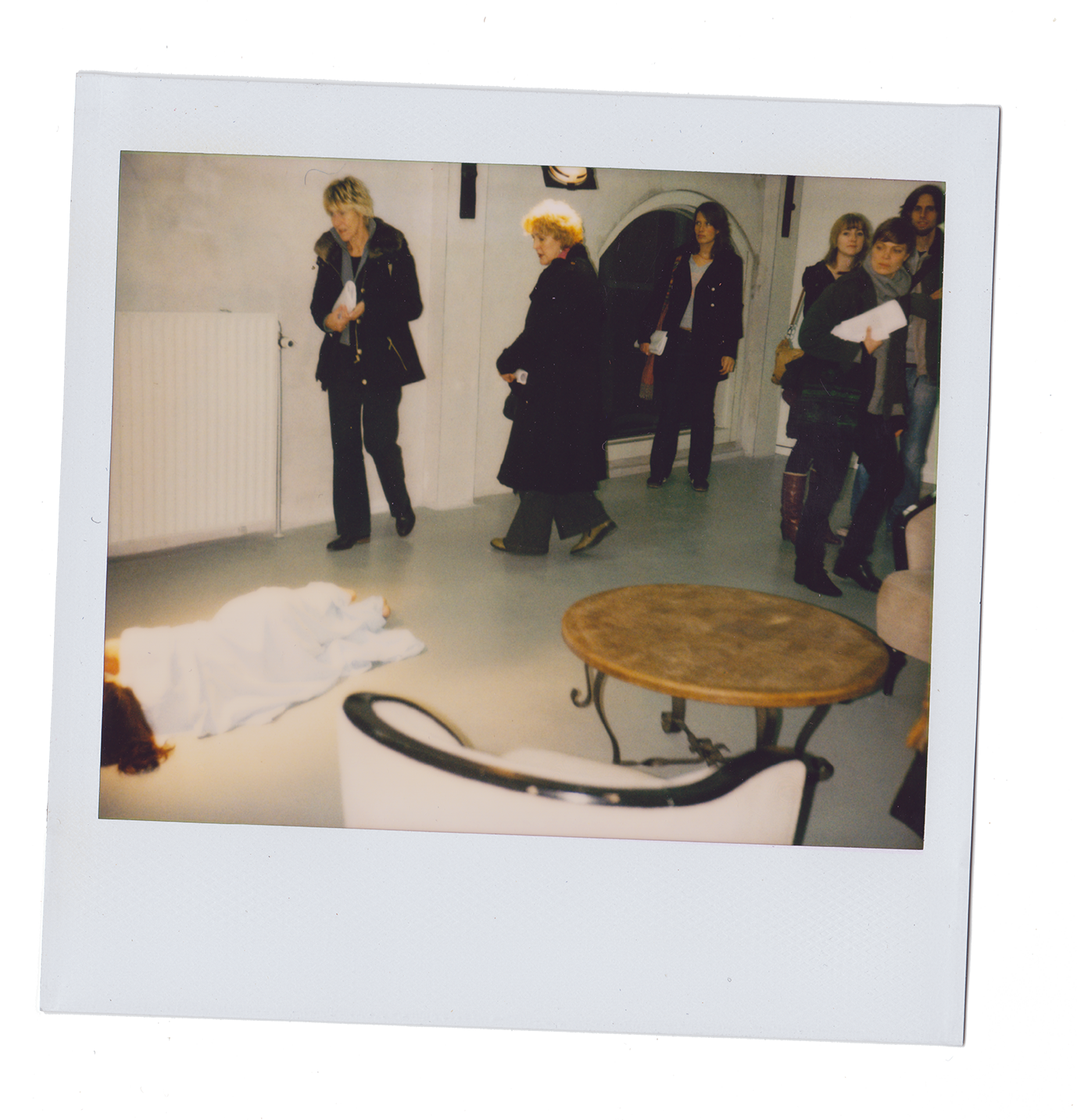 2) A poster illustrating the underlying principle of the performance:
The image is an inverse allegory that produces an image to explain itself and thereby contradicting the supposed autonomy of a performance-as-metaphor:
The quote that forms the centerpiece, "I don't care if it hurts", is appropriated from an early hit by Radiohead. The pun of the image lies in an ambivalence between what or who 'It' is. I.e. do "I" care if "it" hurts, as a thing outside "I", or is the assimilation between "I" and "it" what hurts?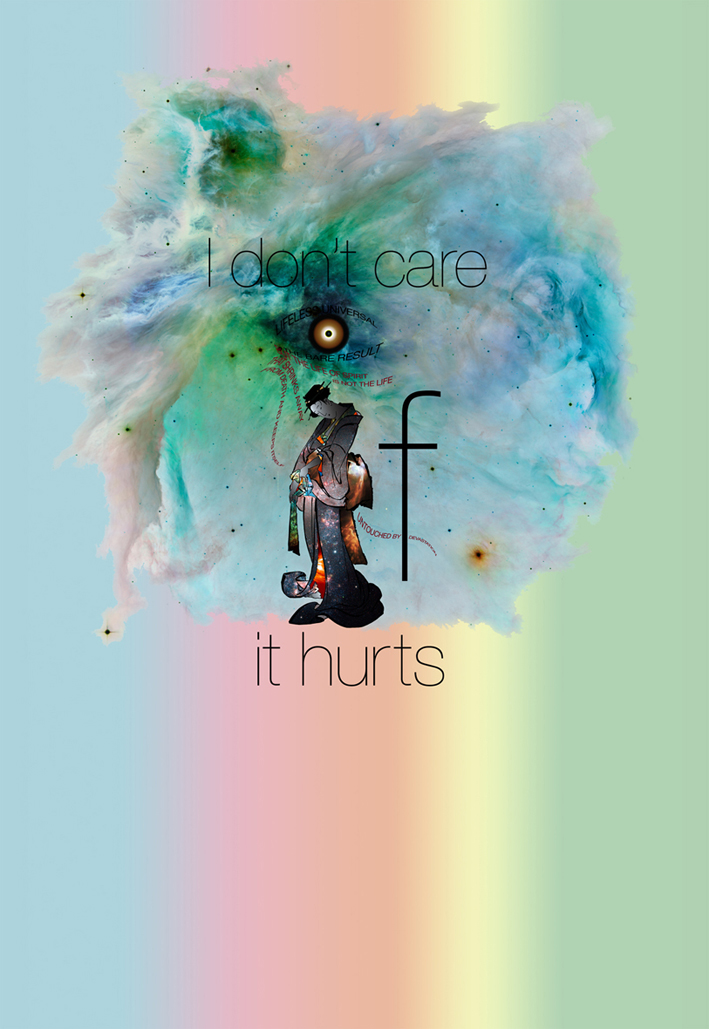 1.7 X 1.2 metres / inkjet print


The "If" in "I don't care if it hurts" is split into two parts:
 
a) The "l" is formed by a geisha whose fabric is made from photographs by the Hubble Space Telescope.
b) The dot over the "i" is an eye – placed in the middle of the image.
The eye simulates the allegory of the image that perceives and is formed by text from Hegel's Introduction to The Phenomenology of Spirit – itself a condensed summary of the totality of the Phenomenology.
Specifically:
- Upper eyelid:
"LIFELESS UNIVERSAL"
- Lower eyelid:
"THE BARE RESULT"
- Around and under eye:
"BUT THE LIFE OF SPIRIT IS NOT THE LIFE"
"THAT SHRINKS AWAY"
"FROM DEATH AND KEEPS ITSELF"
"UNTOUCHED BY DEVASTATION"
---
Supported by the Dutch Ministry of Education, Culture and Science & Van Bijleveltstichting